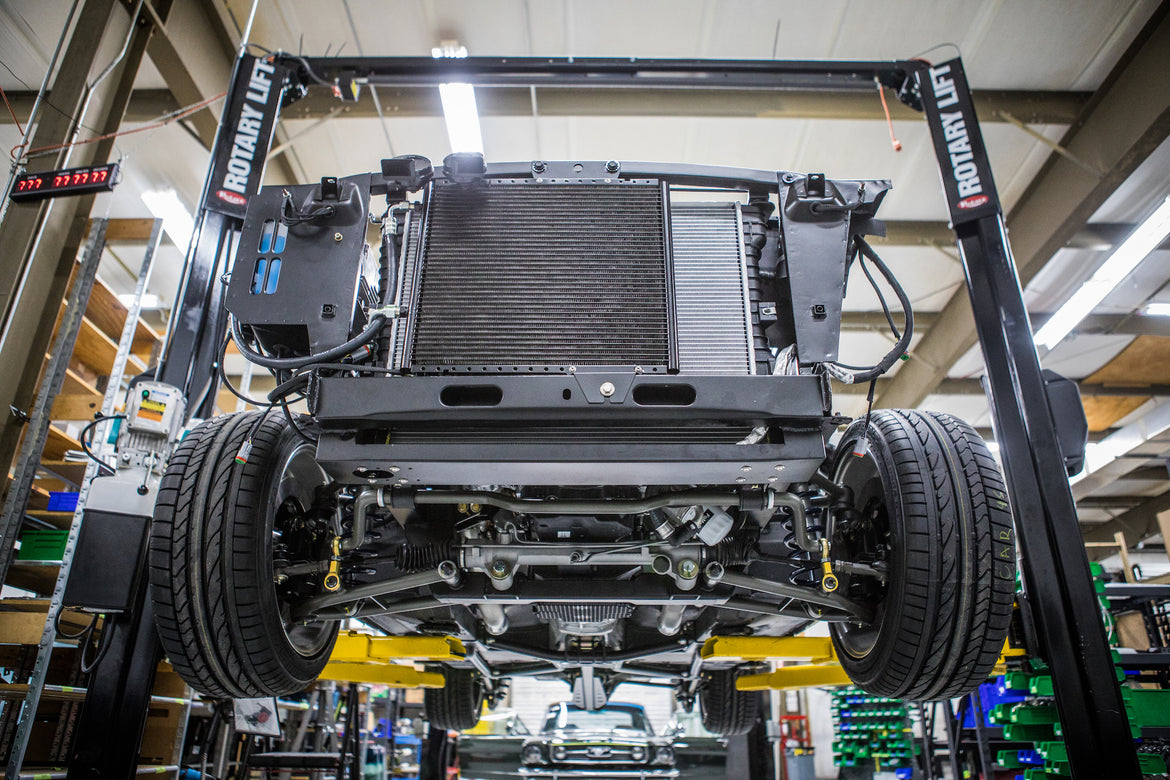 Revology Performance's '65-'68 Mustang Radiator Core Support Kit Keeps Hot Engine Swaps Cool
At Revology Cars we bring the classic Mustang into the 21st century with our completely reengineered Mustang replicas. A Revology Mustang offers that cool vintage car vibe with modern performance, braking, handling, and more with a full bumper-to-bumper warranty. Our Mustangs use quality parts designed in-house and in partnership with proven product partners and assembled by certified technicians via a proven quality assurance process similar to those used by major automobile manufacturers around the globe.
These very parts used in the creation of our Revology Mustangs are available to classic Mustang owners and Mustang shops for their builds through the launch of Revology Performance. At Revology Performance you can find structural, performance, driveline, interior, electrical, and other parts to help complete your '65-'68 Mustang restomod build or Coyote swap project. One such product we wish to share with you is our Radiator Core Support kit.
The classic Mustang's stock radiator core support is made from a single stamped steel piece and is welded into the front structure of the car. The stock offering was designed for a (then common) small down-flow radiator to keep a meager 200-ish horsepower engine cool using a mechanical belt-driven cooling fan. Today's high-performance engines require greater amounts of cooling capacity and efficiency that just isn't possible with the classic Mustang's stock radiator core support design. Revology Performance's Radiator Core Support kit completely replaces the stock core support structure with a new fabricated support that not only provides room for a modern cross-flow radiator that provides enhanced cooling capacity, but adds strength to the whole area using a strong ¾-inch square tube design that is welded in place.
The Revology Performance Radiator Core Support kit was designed with a 30-inch opening to maximize cooling while also locating the opening as high as possible to both aid in airflow through the grille and approach angle at the base of the front valance since no one wants to pull into a parking spot and hear that terrible sound of metal grinding on the parking stop! The Radiator Core Support kit works in conjunction with the 2011-2014 Mustang V-8 radiator and cooling fan package (which we also offer for one stop shopping) and features a bolt-in top support that is fabricated from square tubing as well and matches the stock radius for easy engine installation and service/maintenance.
Installation of the radiator and cooling fan requires minor trimming of the composite fan shroud and our mounting kit, PN REV-M58-11220. Cutting of the original radiator core support and welding of the Revology Performance Radiator Core Support kit is required and can be handled with basic cutting tools and the typical home-use 110-volt MIG welder. There are two kits available depending upon model year. PN REV-M56-11110 is for 1965-1966 Mustangs and REV-M78-11110 is for 1967-1968 Mustangs. Finally, while the Revology Performance Radiator Core Support kit is designed as a direct fit for 5.0L DOHC "Coyote" engine swaps using factory cooling hoses, this kit combined with our radiator and fan package can easily cool any engine up to 500hp. You will simply have to measure for cooling hoses or use a universal-style flexible hose solution.
See Revology Radiator Core Support System
Also see our Coyote Motor Collection.