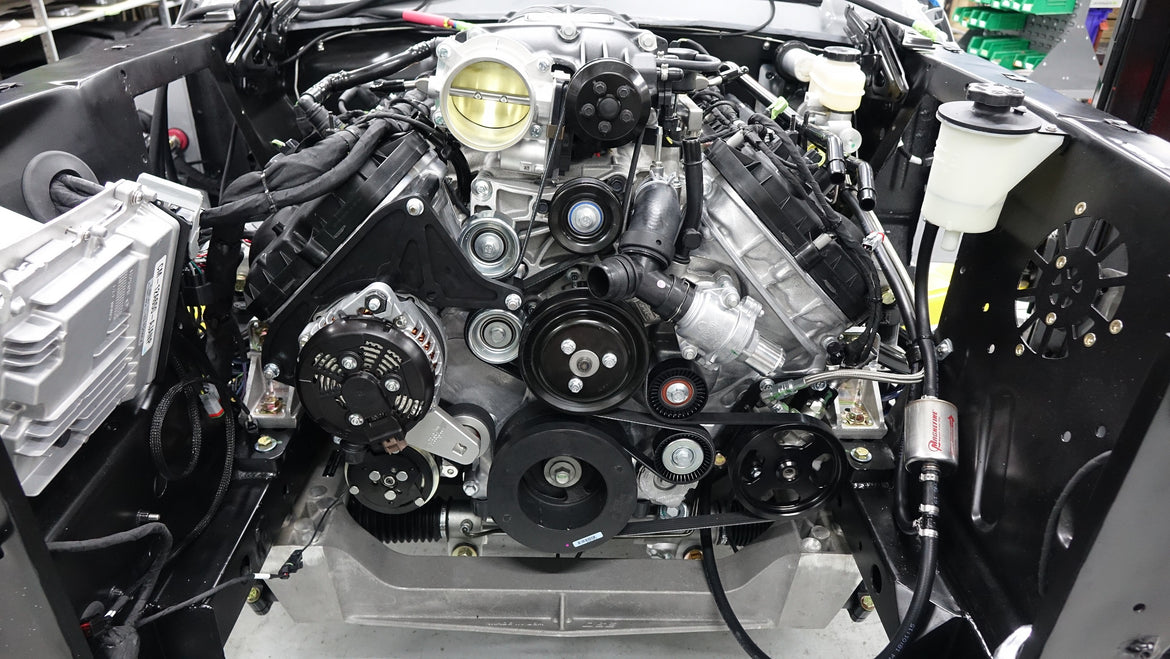 Easily Mount Belt-Driven Accessories on Your Coyote Swap Project with Revology Performance's FEAD Kits
If you've performed any research at all on Coyote engine swap kit packages for classic Mustangs the majority of what you'll find written about the subject is related to fitting the engine itself into your '65-'70 Mustang's engine bay. How you need to remove the shock towers, update the suspension and steering for fitment, and so forth. Not a whole lot has been said about the Front Engine Accessory Drive (FEAD) components and how to configure everything you'll need to provide air conditioning, charging system needs, and even power steering to your classic Mustang now powered by Ford's Coyote V-8.
Our FEAD system provides the appropriate accessory mounting solution for the given application (naturally aspirated or supercharged) to equip your Mustang with air conditioning, a high-output alternator, and power steering. These FEAD systems are available in complete mechanical kit offerings with the necessary hoses available as an add-on part number. Our power steering and air conditioning hose kits provide a clean and easy solution to connect your FEAD items to your vehicle.
These FEAD kits are used in all current production Gen 3 Coyote-built Revology Cars Mustang replicas and feature quality hardware, brackets, and fasteners to get you up and running. Both the NA and supercharged FEAD offerings begin with a clutchless reverse-mounted 200-amp alternator. This is a brand-new Ford alternator with internal regulator that plugs directly into the Ford Performance Coyote Control Pack wiring or can be manually wired with ease if you're using aftermarket engine controls. The alternator mounting bracket is devised from 6061-T6 aluminum and anodized black for an OE fit and finish. Minor trimming of the engine's timing cover is required for installation clearance and can easily be handled in the engine bay.
While there are certainly plenty of classic Mustangs on the road with no air conditioning, we feel it is a requirement when building a modern-day version of the classic Mustang. As such, all production Revology Cars reproduction Mustangs come standard with air conditioning, as does our FEAD kit. We use the industry standard, tried and true, Sanden rotary air conditioning compressor in our kits. This is the same brand compressor that all aftermarket air conditioning companies have used to install air conditioning in classic Mustangs for nearly 30 years. The compressor mounts to the Coyote engine block in the stock compressor location using all new brackets and hardware for a clean look while providing optimal ground clearance. The compressor manifold provided works with any aftermarket AN-style air conditioning hose and fittings or will directly connect to our Revology Cars air conditioning systems.
As with air conditioning, power steering is mandatory for a top-shelf restomod.  However, all hydraulic steering systems are not created equal. Thoughtful engineering is required to facilitate the pressures demanded by the power steering rack-and-pinion and hydroboost brake assist unit and accommodate the Coyote Gen 3 engine with its 7,500 rpm redline. Our system is based around a GM Type-II power steering pump, which is the favored pump used in the majority of aftermarket serpentine drive FEAD conversion kits on the market.  Chosen for its quiet, reliable operation, the pump is USA made and each unit is dyno tested to our specific flow rate and pressure to handle our steering and braking systems.
The Revology Performance FEAD system includes the power steering pump assembly, power steering pulley, fluid reservoir with bracket, and pump mounting brackets; alternator and alternator pulley; Sanden A/C compressor, brackets, and fittings; application specific OE-sourced spring-loaded belt tensioner, all necessary idler pulleys, the appropriate length six-rib serpentine belt to allow the Coyote's stock crankshaft pulley to drive all accessories at the correct rpm, and all hardware required for installation.  Our kit clears the Gen 3 Coyote oil cooler assembly and mounts the power steering pump in the OE alternator location on the driver's side of the engine. Furthermore, the supercharged application upgrades to a much stronger billet belt tensioner with stronger spring to combat belt oscillation and wrap-up under hard acceleration/deceleration. Note, the supercharged application is currently only confirmed to fit the Roush Performance supercharger system that we use on our production builds. Other supercharger systems with a similar configuration should work but will need to be confirmed before attempting installation.
With both supercharged and naturally aspirated 5.0 Coyote FEAD kits and several accessory items to help plumb your FEAD components, Revology Performance is truly a one-stop shopping destination not only for your Coyote's accessory needs, but anything and everything Coyote-swap related for your '65-'70 Mustang.
Spotted here on an in progress 1967 Revology Mustang build with a 710hp supercharged Gen 3 Coyote backed by a 10R80 10-speed automatic (our first!), you can see how we mount the alternator in a reverse-rotation arrangement to keep the FEAD as compact as possible versus hanging it off the engine "out in the wind" somewhere. This mounting configuration is the same for both NA and supercharged offerings.
The primary serpentine belt drives the air conditioning and alternator (and supercharger on optioned vehicles) and utilizes a spring-loaded belt tensioner to provide the correct belt tension under all driving loads. The smooth and ribbed idlers ensure optimum belt tracking for a quiet and stable belt path.
On the left-hand side of the engine the power steering pump is mounted with its own spring-loaded tensioner and idler assemblies. This setup is used for both NA and supercharged applications.
A steel bracket is designed in-house to adapt the popular GM Type-II power steering pump to the Coyote engine block. This design uses factory mounting holes with a combination of existing and new mounting hardware for a true bolt-on solution.