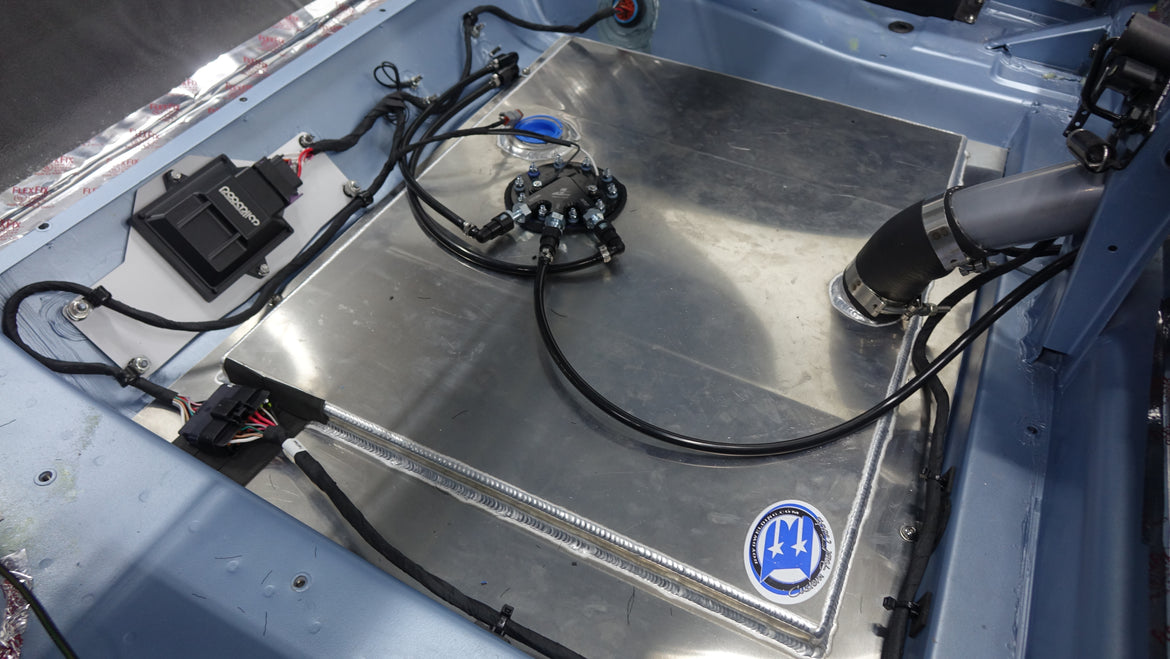 Fuel Your 65-70 Mustang Coyote Swap Project with Revology Performance's Bolt-In EFI Fuel Tank
It's been well over 30 years since anything with a carburetor has rolled off a vehicle assembly line. Short of your lawn mower, everything with wheels, from your side-by-side to your daily driver, runs electronic fuel injection (EFI). Having EFI meter your engine's fuel needs means you burn less fuel while optimizing your engine's peak power and torque output. It's really the best of both worlds. You get efficiency with optimum performance, which is why people have been converting their classic Mustangs to EFI since the early 1990s.
Today it is easier than ever to convert your Mustang's V-8 engine to EFI with a bolt-on throttle body conversion EFI system, while others opt for OE-spec EFI in the shape of a factory fuel-injected crate engine like the ever popular 5.0L Coyote V-8 that has been under the hood of the Mustang since 2011. The Coyote engine swap has become so popular, due to the power output and smooth driveability characteristics, that there is a whole industry offering swap parts to make the conversion as easy as possible for the DIY installer at home, including our own products right here at Revology Performance.
The one common denominator, be it a Coyote swap or a bolt-on EFI conversion for your current V-8, is that they both need a high-pressure EFI fuel system to feed the engine's fuel needs. To that end, supplying fuel under high pressure requires not only suitable fuel lines, fittings, and fuel pump, but a fuel tank that is designed for EFI and not some sort of retrofit system. The stock '65-'70 Mustang fuel tanks were never designed for EFI and while they can be retrofitted at an expense, we felt the only way to properly fuel an EFI engine was to design our own fuel tank.
We set out to design a direct bolt-in fuel tank for the '65-'70 Mustang that solves all the problems of feeding an EFI engine, along with providing a few additional benefits with its installation. Designed in-house at Revology Performance and built by Boyd Welding Custom Tanks to our specs, this EFI fuel tank is used in every Revology Cars production Mustang build. The TIG-welded tank features 17 gallons of fuel capacity and incorporates fully welded internal baffles that keep your fuel pump fully submerged in fuel no matter fore/aft or left/right movement to ensure your EFI engine is fed the proper fuel volume and pressure under all driving conditions—performance or otherwise. The filler neck opening is designed to work with our fuel-resistant hose and mounting clamps (included) and mates directly to the stock fuel filler pipe that mounts in the stock taillight panel location. Installation truly just takes hand tools.
Finally, when designing our EFI fuel tank we narrowed the lower assembly to allow larger diameter tailpipes ample clearance on either side, which prevents heating the fuel from the hot exhaust gasses, while maintaining a true bolt-in installation solution. This is important, especially on vehicles that utilize through-the-valance GT exhaust "trumpets" and '67-'68 GT-spec cars with quad exhaust tips combined with larger 2½ inch performance tailpipe diameters. Due to the internal baffles used in the Revology Performance tank design a "floatless" fuel level sending unit must be utilized during the installation and is available in several different ohm ratings to match just about any fuel gauge offering on the market for '65-'70 Mustangs.
For fuel delivery we offer a 200 lph in-tank fuel pump from Aeromotive Performance for naturally aspirated applications. An optional 340 lph Aeromotive Performance pump is available for supercharged applications. Both pumps are from Aeromotive's Phantom line and include a foam anti-slosh pump surround that fits within and compliments the tank's welded baffles.
The tank's mounting flange mimics the original factory tank for a seamless bolt-in solution for your EFI fuel system needs. Included with the tank is a new fuel filler neck hose with high-strength stainless band clamps (your original fuel filler neck can be retained).
Our tanks are designed to use either a 200 lph or 340 lph Aeromotive Phantom fuel pump module. We recommend the 200 for naturally aspirated Coyote swaps (and traditional pushrod EFI conversions) and the 340 for supercharged applications. The pump is a direct bolt-in and features quick-connect fittings for fuel return, fuel outlet, and fuel vent.
Due to the tank's internal baffling a conventional fuel level sending unit with float arm is not compatible. They are also more prone to inaccuracies and fuel gauge needle "bounce." For these reasons we use a "floatless" sending unit. This sending unit bolts directly into the tank with no modifications and we offer it in a 180-10 ohm range for our gauge package, but optional ohm ranges are available to work with most any aftermarket gauge package.
Revology Performance offers everything you need to completely plumb your Coyote swap's EFI fuel system from fuel tank to fuel rail, including pre-bent hard lines, fuel filter, regulator, evaporative canister system, and more. Call us today to discuss your classic Mustang's EFI fuel system needs.