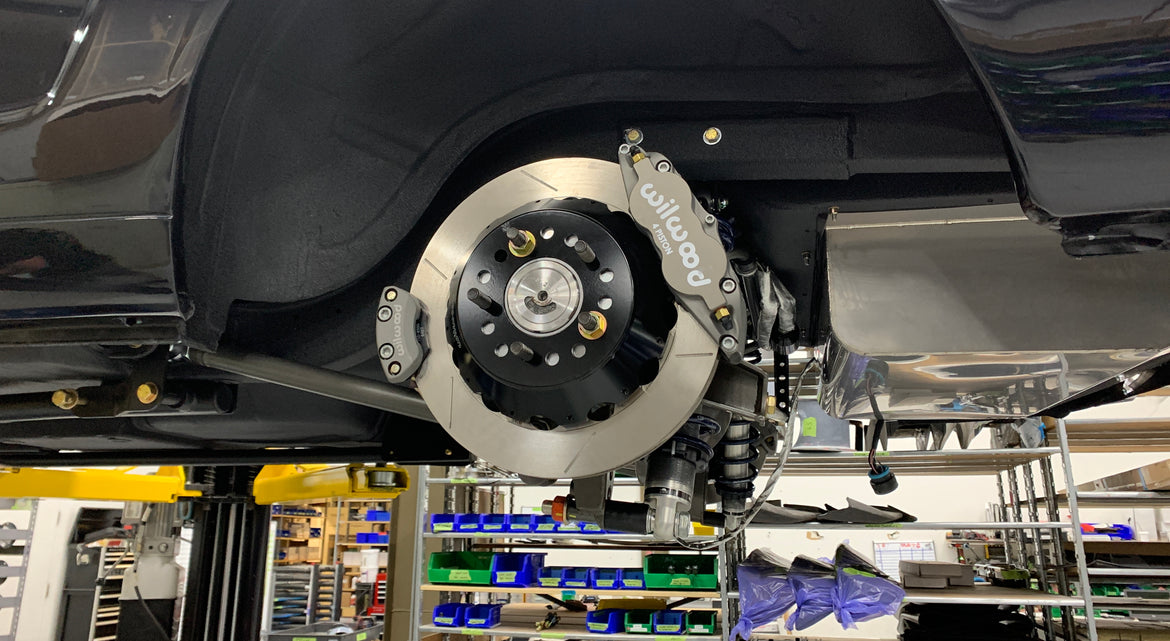 Latest Revology Electronic Parking Brake System
Packaging modern components into a 1960s vehicle architecture is a challenge. Revology is always looking for ways to improve package efficiency while also improving performance and serviceability. Our new electronic parking brake system solved a significant packaging challenge for us, while also improving functionality. In this video, Tom Scarpello explains why we made the change to the new system.
<Video transcription>
We are going to talk about the Wilwood electronic parking brake.  This parking brake solved the packaging challenge for us at Revology Cars, and it can also help you with your packaging challenges on your Mustang restomod project.  What is packaging? It is an industry term for, basically how you fit everything into the space that you have to work with so that all the components functions properly and they are also serviceable.  That's a really big thing because you can perhaps install the parts but if you cannot get to service it then you don't have a functional product.  Packaging is absolutely critical and it is really a big challenge when you are building a restomod because you got a certain amount of space but you got modern components that have to go into the space, where they take up a lot more room and for them to work properly it really takes a lot of effort to get everything to package. 
Since we started Revology Mustang project we have always used an electronic parking brake system. Why? Because we do not have enough space under the car to run the factory cable type system. It is a big bulky component with cables running down the tunnel. We have all that space full with a 2 ½ inch dual exhaust, an additional strengthening body stiffener, and a 3-link rear suspension. It just makes packaging a real challenge. We have always used an electronic parking brake; the thing was we had a separate electronic actuator that pulled the cables. It was kind of like your old hand brake that you pulled it by hand and then it activated cables. The difference was that it was an electronic actuator, we were able to put that in the trunk area and then run the cables from there to the brakes.
Now, the new Wilwood Electronic Parking Brake has the actuators in the caliper. We do not have a separate actuator, we do not have cables running through a bulkhead and down to the parking brake. Everything is all contained right here in the calipers. It really (really) improves packaging and (also) works great. Absolutely excellent and you do not have to spend time fiddling to get the balance just right so that you have good hill holding. This has simplified our packaging. It made it a quicker install and less adjustment that is necessary when it is all put together, so it is just a win (win, win) across the board. We have been really happy with the Wilwood Electronic Parking Brake and it is now standard equipment on all Revology Mustangs and Shelby GT's.
See Revology's new Wilwood Electronic Parking Brake Systems
See Revology Coyote Swap Braking Systems
Also see our Coyote Motor Collection.