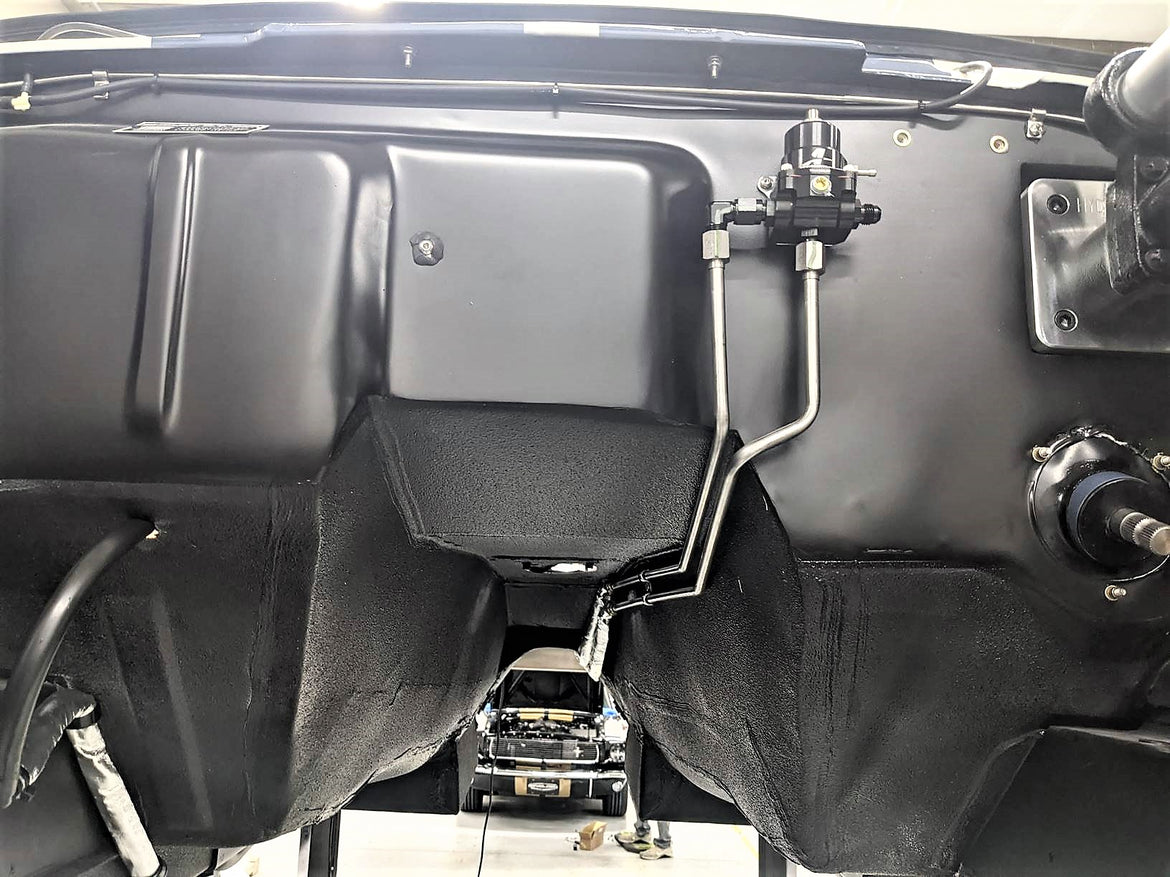 Safely Fuel Your Coyote-Swapped '65-'70 Mustang with Revology Performance Pre-Bent Line Kits
A lot of thought should go into a properly executed fuel system, especially one that is supplying fuel to a high-pressure EFI system. From fuel pump capacity and injector size, to line sizing and even routing of said lines. Every part of the fuel system has to work together properly to keep a fuel-hungry engine like Ford's Coyote V-8 happy and healthy. We examined our direct-fit fuel tank and pump assemblies in a past product blog and in this blog we're going to take a look at the next piece of the puzzle, transferring the fuel from the tank to the engine.
Many hot rod builders tackling a project in their home garage will use braided AN hose for a fuel system. There are several issues we take with this route, first and foremost being the one of safety. Road debris is inevitable if you plan to drive your classic Mustang at all and a rubber hose, even one with a braided outer covering, can be penetrated or sliced open by an object you have driven over or that was kicked up by a tire. This is why the production car you drive every day runs a hard fuel line made of steel.
Second is fuel vapor smell. These rubber lines often allow today's fuels to permeate through the rubber liner and give off a fuel odor that can fill your garage or storage building, making for an unpleasant smell. This is even more of an issue if your garage is attached to your house. We have heard more than a few horror stories of enthusiasts having to park their classic cars outside because the spouse banished it from the garage due to smelling up the whole house with fuel vapors!
Lastly, is age. Rubber hoses will deteriorate, especially with today's ethanol-based fuels, and break down. Minimizing the amount of rubber line, or better yet, updating to flexible plastic line in place of these small rubber hoses sections, while using steel hard line for the majority of the fuel line run is your safest bet. This is why Revology Cars only builds its Revology Mustangs with OEM-style hard fuel lines with fuel-safe plastic hose for high-vibration and flex locations. We are excited to offer these very same line kits through Revology Performance for your Coyote-swapped '65-'70 Mustang project.
Our fuel line kits are made from 3/8-inch pre-bent 304 grade stainless steel and feature specific routing to ensure the lines are mounted as high up in the chassis as possible to further reduce any chance of road debris from damaging the lines. We provide all of the clamps and thermal sleeve material for the installation and thanks to the included fittings, high-flow aluminum 10-micron fuel filter, and adjustable bypass fuel pressure regulator, our line kit is a complete return-style EFI fuel line solution that will handle your fuel injected Coyote, be in naturally aspirated or supercharged.
While we cannot research every EFI engine combination, our hardline kit would easily work with most aftermarket EFI retrofit systems if you are willing to provide your own fuel line from the regulator to your engine. Have a question? Give us a call today for your Coyote-swap fuel system needs!
Our complete EFI line package starts with this rear body portion that is designed to connect to our bulkhead fitting kit and includes pre-bent hard lines, fuel filter, fittings, clamps, and thermal sleeving.
The forward body portion includes line unions, pre-bent hard lines to connect the rear body lines to the fuel pressure regulator, regulator fittings, and flexible fuel line from the regulator to the Coyote engine's fuel rail port.
The Revology Performance Pre-Bent Fuel Line Kit tightly follows the under-body contours, providing ample room for suspension (be it leaf spring, or multi-link), driveshaft, and exhaust.
The forward section of hard line places the regulator on the firewall at the left rear of the engine to minimize flexible fuel line length to the Coyote's fuel rail port. The regulator is fully adjustable (gauge not included) and features a vacuum port fitting for boost referencing in supercharged or turbocharged applications. The included flexible fuel line connects the regulator to the Coyote's fuel rail with an OEM style fitting.