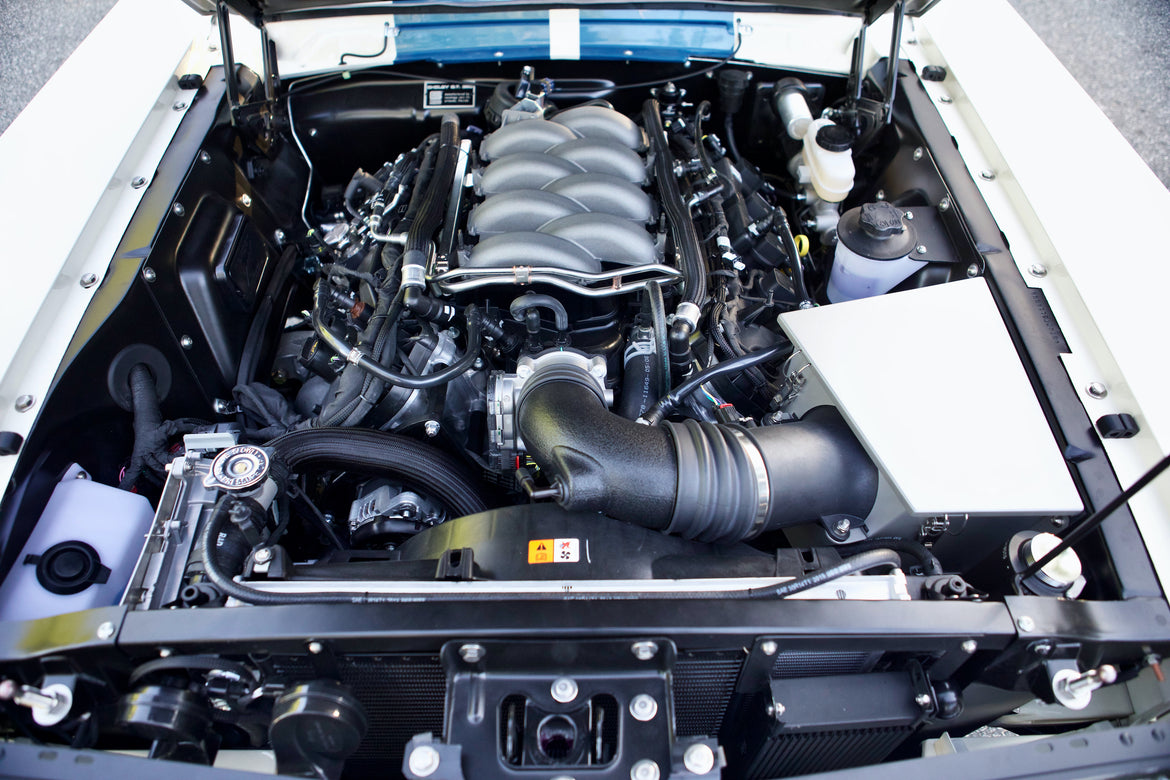 Help Your Coyote Swap Project Breathe With Revology Performance's 1965-1970 Mustang Cold Air Intake Kit
The thought of dropping Ford's 5.0L "Coyote" engine into a classic Mustang is on a lot of enthusiast's minds these days. Obviously, or you wouldn't be here perusing Revology Performance's line of Coyote swap products to do just that! As popular as the Coyote engine is for swaps in everything from VW Beetles, Porsches, and even BMWs, the largest swap market is undoubtedly the first-generation Mustang. Revology Performance's laser focus on the 1965-1970 Mustang market to facilitate an easier Coyote swap process comes from within our own engineers and outside product partners to bring you exactly the right parts to solve your Coyote swap issues.
*While the Cold Air Intake kit ships unassembled, this beauty shot shows how everything comes together for installation.
One such example is our new Cold Air Intake kit for 1965-1970 Mustang Coyote swaps. As we developed the engine package for our Revology Cars Mustang reproduction vehicles it became apparent that the new Gen 3 Coyote engine (which is used on all current production builds at Revology Cars) has much more stringent engine management parameters compared to the Gen 1 and Gen 2 Coyote engines when it comes to inlet air management. Whereas the Gen 1 and Gen 2 Coyote could retain some of the Ford Performance Control Pack induction pieces or the end user could cobble together some sort of induction tube with an open element air filter, the Gen 3 Coyote cannot. The Gen 3 Coyote MUST utilize a shielded/sealed airbox enclosure and the correct mass air flow (MAF) meter ducting to produce a clean, linear airflow through the sensor to provide accurate airflow data to the PCM. Standard open element filter systems create too much air turbulence, skewing the sensor data and causing driveability issues due to incorrect air/fuel ratios.
*From the engine side of the kit you can see the weld in panel for the inner fender apron along with the MAF sensor mounting location.
Revology Performance solved this issue by designing a unique cold air induction system that completely seals the filter media off from the heat of the engine bay while drawing cool fresh air from the inner fender area. Furthermore, the MAF sensor location and inlet diameters have been optimized for best driveability and performance for your Gen 3 Coyote swap project. Best of all, the system will easily work with Gen 1 and Gen 2 Coyote swaps if you have an older generation engine in your Coyote swap project already and will fit both automatic and manual transmission applications.
*As installed in a Revology 1966 Shelby GT350 replica with standard Gen 3 Coyote V-8 you can see how the weld-in air box mounting panel integrates into the inner fender apron. Once painted it looks like a factory aspect of the classic Mustang's engine bay.
The Revology Performance Cold Air Intake kit is designed exactly like our other Coyote swap products, via our in-house engineering team and in collaboration with various product partners that specialize in laser cutting, panel forming, and more, to our specs. The kit features an airbox mounting plate (welded into the inner fender apron with included cutting template), and airbox formed from 16-gauge cold-rolled Galvanneal steel. This is a metal process where steel is galvanized followed by annealing, just like the OEM auto manufacturers do for corrosion protection. These parts are then powder-coated in a light textured silver finish to match the Coyote's intake manifold, and for additional protection. A stainless-steel lid with foam seal is secured to the airbox via OE-style stainless retaining catches for easy access to the air filter for servicing. An additional seal is used between the airbox housing and the fender apron to accommodate apron height and angle differences between model years.
*The induction tubing supplied with the kit provides the proper mounting location for the MAF sensor along with the Gen 3's PCV hose for a direct fit solution.
The kit's filtration media consists of a pre-filter that is cut to match the inner fender opening and secured by a filter retainer. This pre-filter is a synthetic washable filter with a MERV-5 rating. Once air passes through the pre-filter it meets up with a 5-inch conical performance high-flow filter that is washable and reusable sourced from the filtration experts at K&N Filters. The induction tubing, MAF sensor housing, and couplers are all specific to the Revology Performance Cold Air Intake kit, creating a bolt-in solution from airbox to throttle body allowing you to retain the stock MAF sensor from the Ford Performance Control Pack kit, or sourced from your favorite parts store or salvage yard (mounting screws included). All mounting hardware is stainless steel as well.
Provide your 1965-1970 Mustang Coyote swap project's Gen 3 engine the cool, linear airflow it demands to run at its peak performance, while providing optimal driveability and street manners with our Cold Air Intake kit today!