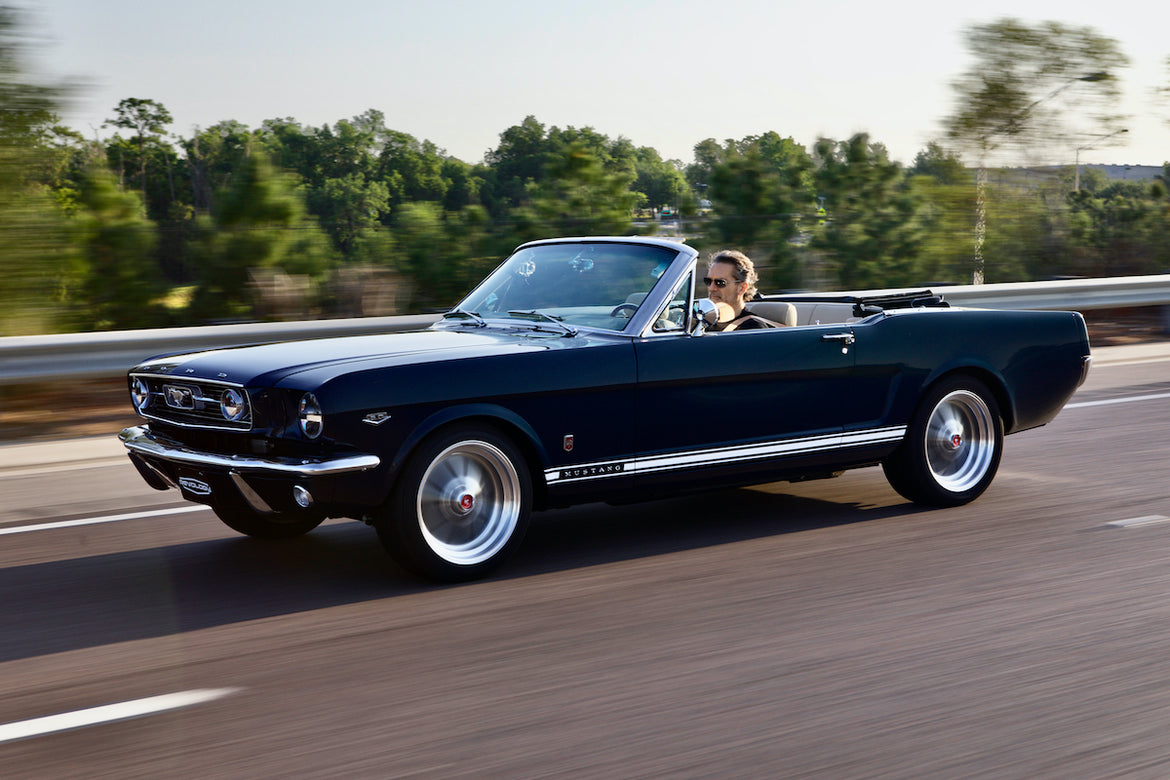 Revology Performance's Pedal Kit Provides Necessary Clearance for your '65-'68 Mustang Coyote Swap Project
Revology Cars has made headlines in major automotive media outlets worldwide for our turn-key classic Mustang replicas powered by Ford's venerable 32-valve DOHC 5.0L V-8 "Coyote" engine. Our in-house M58 platform has been engineered and designed for the Coyote drivetrain packages we offer and we are now providing these very same parts we use in the production of our replica Mustangs to classic Mustang owners tackling their own Coyote swap-focused builds via Revology Performance.
One of the biggest challenges to the popular Coyote V-8 swap in a classic Mustang is packaging this very large modern engine in the first-generation Mustang's diminutive engine bay. The typical 289/302ci small-block Ford is roughly 21-inches wide, whereas the 5.0L Coyote engine measures in at about 30 inches wide. To get that wide of an engine in place will require front structure changes like removing the shock tower sheetmetal, updating the suspension and engine mounting configuration, and more.
Once you've completed these updates and test fit your new 5.0L Coyote crate engine you're going to find the next biggest issue with these swaps, which is the lack of master cylinder/brake booster clearance. Frankly, there's absolutely no room for any vacuum-based brake assist, forcing builders to convert to manual brakes. Even with a manual setup, you'll run into master cylinder to cam cover clearance issues and have a heck of a time with brake line plumbing as well. But who wants to go manual when you're outfitting your restomod with such a modern engine, and other updates? We certainly don't want to! The solution is our Coyote Swap Pedal Assembly that is available for automatic and manual transmission applications. Installing the Revology Performance Coyote Swap Pedal Assembly kit will not only provide the clearance necessary to run a proper master cylinder with a hydroboost hydraulic assist unit for great braking and pedal feel, but will properly locate the pedals inside the vehicle as well.
Each Coyote Swap Pedal Assembly kit is manufactured to exacting tolerances using fixtures for repeatable accuracy in manufacturing, which is exactly what you'd expect from a vehicle manufacturer like Revology Cars. The Coyote Swap Pedal Assembly kit ties the brake and gas pedal (and clutch pedal if manual option) to the same structure to maintain the proper relationship amongst the pedals. Revology Performance packaged the longest brake pedal arm possible to provide the best mechanical leverage and pedal feel for the customer. The firewall to dash support provides clearance for the stock wiper linkage assembly and allows space for aftermarket gauge packages, such as the Dakota Digital gauge clusters offered by Revology.
The Revology Performance Coyote Swap Pedal Assembly kit includes the pedal support, weld-in firewall and dash mounting plates, brake pedal arm with pivot and pad, pedal linkage, adjustable brake light switch with bracket, and mounting hardware. The kit is designed to use the current generation Ford Mustang drive-by-wire throttle pedal assembly, which is included with the Ford Performance Coyote "Control Pack" wiring kit, or can be sourced from a salvage yard or as a service part from your Ford dealer (note the service part does not feature the bright metal trim that is found on production cars and in the Control Pack kit).
Swapping a Coyote into a vintage Mustang is a challenging project, but Revology Performance is here to help. Nobody has more experience than Revology with integrating the Ford "Coyote" engine into the 1964-1968 Mustang vehicle architecture. Contact Revology Performance today and let us help you with your Coyote swap project needs!
Coyote Swap Pedal Assembly kit is available in two configurations; one for automatic transmission swaps and one for use with manual transmission swaps. The manual transmission option includes matching clutch pedal and linkage to work with our master cylinder and clutch switch/reservoir, PN REV-M58-23508-A.
This profile photo of our display unit shows how the firewall mounting kit, pedal assembly, and Hydroboost system all package together. Our compact assembly allows for power assisted braking and hydraulic clutch actuation while leaving generous room for your Coyote swap engine placement.
As shown installed on one of our licensed Shelby GT350 replicas, the hydroboost assist unit tucks nicely into the firewall mounting bracket, providing room for your Coyote engine installation, hydraulic clutch reservoir mounting, and both hard and soft fluid line routing for the assist unit and brake master cylinder.